This album contains a selection of photos and images of papercuts and posters taken by me or collected since 1971. These may be used with full acknowledgement for non-profit and educational purposes, and I can supply high resolution jpegs if contacted. The album will in time be extended to the present day.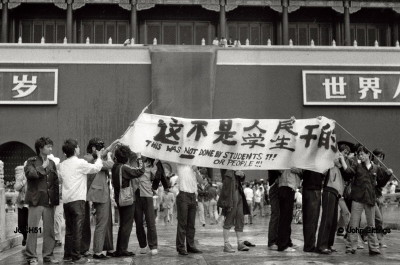 1989: Beijing, the egg-throwing incident
On May 23rd., three protesters from Hunan threw paint-filled egg-shells at Mao's portrait on the Tiananmen Gate, which was promptly covered up. Tragically, the students in the square thought this was a provocation by the government, detained the three protesters, and hoisted a banner denying responsibility. The three were later given harsh jail sentences of up to 20 years.